Wekiva Island's beloved Winter Wonderland event always brings the holiday cheer, but this year it's going to be even BIGGER.
The riverside attraction will be supersizing its glittering Christmas Tree Forest and adding a huge 20-foot-tall tree as the centerpiece to the month-long lineup of holiday events. The festivities will run from Dec. 3, 2021, through Christmas Day.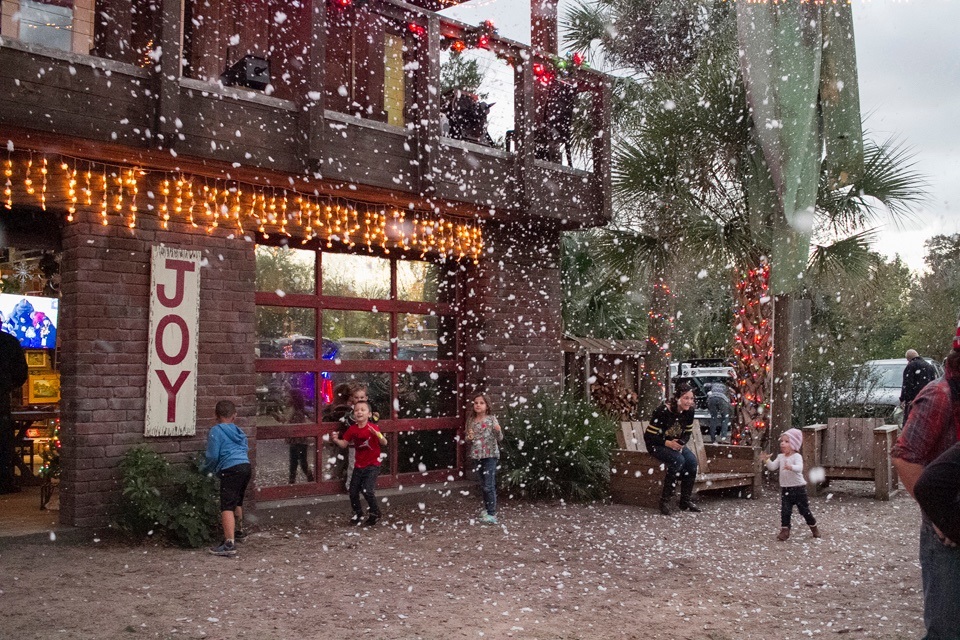 "Guests loved the Christmas Tree Forest last year—using it to take the perfect holiday photo or just enjoy the ambiance," said Carrie Vanderhoef, manager. "We knew we had to bring it back this year, bigger and better than ever."
In its sixth year, Winter Wonderland delights guests with nightly "snow" flurries, sparkling holiday décor, visits from Santa and other holiday characters and special events. In fact, Santa and Mrs. Claus will visit Wekiva Island to officially kick off the event and light the giant Christmas tree at 7 p.m. Dec. 3. Guests are encouraged to bring a new, unwrapped toy to donate to Toys for Tots that evening.
Other events include:
Breakfast with Santa—Don't miss this classic, super-popular event! Enjoy a delicious breakfast and spend some time with Santa from 8 a.m. to 11 a.m. Dec. 11. $14 for adults, $11 for children 12 and younger.
VIP Party—Get the VIP treatment at the holiday party of the year. The Island will be closed at 5 p.m. to all but ticketholders for an exclusive night of great food, great drink and great company. $60 per person, $100 for couples. 7 to 10 p.m. Dec. 18.
Visits from Santa & Mrs. Claus—Enjoy some quality time with the head elf himself every Friday, Saturday and Sunday through Dec. 19.
Visit from The Grinch—Your favorite holiday movie comes to life with a visit from The Grinch, Cindy Lou Who and elves of Whoville from 2 to 5 p.m. Dec. 19.
Stories with Mrs. Claus—Enjoy hot cocoa, a cookie and some quality time with Santa's most trusted confidante for a fun storytime for $10. 7 p.m. every Wednesday until Christmas.
Letters to Santa—Tune in on Facebook as Santa reads all the letters he has received at Wekiva Island so you can be sure he knows your wishlist! 7 p.m. Dec. 13 and 20.
Holiday movies—Bring the whole family and get into the spirit with seasonal movies every Sunday until Christmas at 7 p.m.
Wekiva River Sleigh Rides—Take a sleigh ride like never before—down the beautiful Wekiva River! $20 for adults, $10 for kids. 11 a.m. to 5 p.m. every Saturday and Sunday through Dec. 19.
Additionally, Wekiva Island will be open from 8 a.m. to 5 p.m. Dec. 24 and from 11 a.m. to 5 p.m. Dec. 25.
The Toys for Tots drive will continue through Dec. 11. Wekiva Island will be offering specials and discounts at its General Store, in addition to free gift wrapping on ALL gifts brought to the Island—so guests can kick back with a beverage while Island elves do all the hard work.
Winter Wonderland is open to the public. There is a $2 admission fee, and select events require an additional ticket.
Visit http://wekivaisland.com/ for a full schedule and to purchase tickets.