At Wekiva Island, art holds a special place in our hearts. In fact, it's one of our core pillars, along with education and sustainability. And we don't just talk the talk.
From our monthly Orlando Wine & Paint classes to the annual Wekiva Paint Out, there are constantly creative things happening here. In fact, last year, we opened our very own Orlando art gallery so art can have a permanent, dedicated place for all on the Island. At Gallery CERO, you can see pieces from local and national artists that showcase the true beauty of Florida through their work.
However, our Orlando art isn't always in the gallery. Some of our pieces are outdoors on panels and even shipping crates. Here are some cool pieces you can see in (and out of) Gallery CERO.
Peter Pettegrew's hidden gem
Tucked behind the boat stalls, you will find a beautiful three-panel mural by the fantastic Peter Pettegrew. Pettegrew is a longtime friend of the Island, and this piece is a true Island treasure. This largescale work was painted going down-river. With beautiful sunset tones of orange and pink blending into the blue sky, this bright piece makes the perfect backdrop for a photo or just a quiet retreat. Pettegrew is from northern California and excels at painting expansive skies and landscapes. He is also a mentor and loves to share his gift with others. You might even have caught him painting around the bar at the Island a time or two!
The Island's welcome mural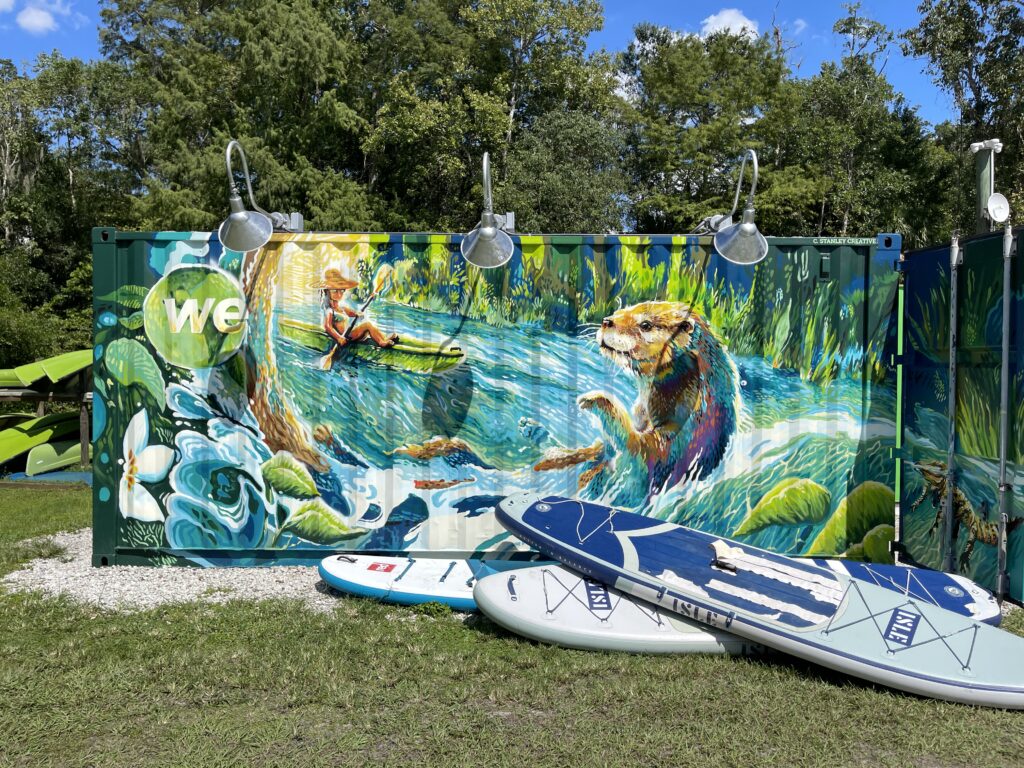 If you have ever taken advantage of our Orlando kayak rentals, you can't have missed Wekiva Island's welcome mural. Painted by professional Orlando muralist Christian Stanley, this shipping crate turned mural is a beautiful centerpiece of Wekiva Island. This work depicts a kayaker going down the river alongside a friendly-faced otter. Before creating this piece, Stanley was inspired by flora and fauna he saw in the area, as well as the Tooting Otter bar. This mural, located by our kayak and canoe launch, incorporates all of Wekiva's core pillars: art, sustainability, and educating people about the river. Snap a photo next time you're visiting and be sure to tag us.
Morgan Samuel Price's "Gliding In"
This piece by Morgan Samuel Price is a realistic depiction of an egret swooping in on the Wekiva River. The work, painted in 2013, was done on the back deck of the Classroom, so it carries a true Island spirit. Price is very technically proficient and has many pieces with us at Gallery CERO. She also teaches many artists, both novice and advanced. Her pieces often capture the emotion and share a feeling with the viewer, which elevates the experience for both the viewer and the artist. Stop by the gallery on your next visit to see if we have any of Price's pieces on display.
Mikel Wintermantel's "Stand Out"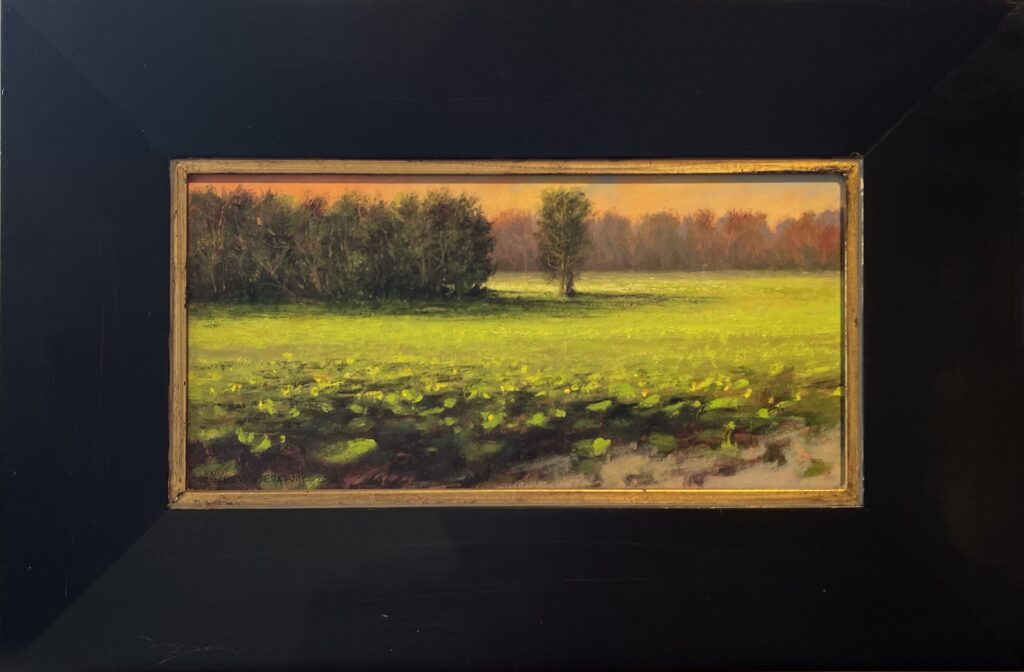 Mikel Wintermantel is a childhood friend of our owner, Bill Weinaug, so the Island has always had a personal connection with him. And it's lucky we do! Wintermantel is a world-class artist. Hailing from Allegany, New York, Wintermantel primarily paints in oils. He is a Copley Master, which is the highest distinction for artists from Copley Society of Art, the oldest non-profit arts association in the U.S. His piece, "Stand Out," shows a lone tree "standing out" from the rest with a down-river view of the Wekiva. Although the painting is only 6 x 12, this work conveys the luminous beauty of our Florida river. Stop by to see the Wintermantels we have in our collection in the gallery. 
Michelle Held's "Whispering Reeds"
Michelle Held is also an Island favorite. In fact, she got her big break with us at the Wekiva Paint Out auction several years ago when one of her bird paintings sold for top dollar. Based out of Sarasota, Florida, Held is known for her iconic depictions of Florida birds and wildlife. One of the pieces we have at Gallery CERO takes the nature theme, embodying the serene beauty of the Wekiva. The painting shows reeds standing tall along the Wekiva River's flowing water. This piece brings a sense of calm to the viewer and shows the peacefulness Florida's nature has to offer—something lovers of Wekiva Island know well.
Want to see these pieces up close and personal? Gallery hours are noon to 7 p.m. Tuesday through Sunday. The gallery is located on the second floor of the Tooting Otter Craft Beer & Wine Bar at Wekiva Island, and pieces are available for purchase.
Of course, you can see the outdoor works anytime you visit the Island. And, keep an eye out for special events and our exhibitions. See you soon!