Calling All Young Explorers!
Learn all about nature and experience it too!  Kids are invited to come to learn and play with us at Wekiva Island. We go beyond traditional field trips with exploratory fully immersive learning experiences that educate and entertain young explorers.
Located along a floodplain wetland, Wekiva Island is an environmentally prized private recreation area nestled along with Seminole County, Florida's Wekiva River. This suburban oasis sits amid bubbling natural springs that have been enjoyed by early Native Americans and today's explorers too.
Environmental
Home School Program
Class participants will walk along the riverbank collecting prized specimens, climb into their lab coats to study their findings, cool down on the lazy Wekiva River on a journey to the Springs, and get a birds-eye view of beautiful birds of prey, all while making new friends and lasting relationships.
Parents and Chaperones! 
Don't want to leave your kids to "go it alone"?  We invite you to watch them play and learn about our environment from the comfort of The Tooting Otter. Enjoy a cool soft drink, or a cold beverage from the lounge. Play Jenga, corn hole or volleyball and other games with your crew, or simply kick off your shoes and pull up an Adirondack chair overlooking the River. 
For more information on class sizes, dates, and course schedule please fill out the form below!
Customize Your Students Programing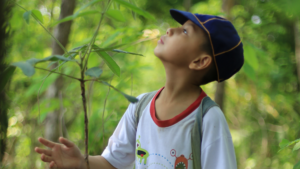 OPTION #1: Classroom Workshop: (2 ½ hours) Endangered Species - Introduction to endangered, threatened, and extinct animals. Meet the endangered species puppets! (Includes
Outdoor Activity - nature walk to identify animals living in/around the river environment; Identify any threatened or endangered animals; Animal footprint identification.) 
OPTION #2: Classroom Workshop: (2 ½ hours) Endangered Species craft project - Animal Masks! Learn about endangered animals as you create your own artistic endangered species mask!
(Includes Outdoor Activity - parade with the Endangered Species puppets and pretend you're one of the animals by wearing the Endangered Species mask you created.)
OPTION #1: Classroom workshop: (2 hours) The Earth and our environment - Understanding our environment and how humans interact with nature. (Includes
Outdoor Activity - environmental walkabout identifying how the sun, air, water, land, plants, and animals interact.)
OPTION #2: Classroom Workshop: (2 ½ hours) Discussion about the natural world vs. manmade world; pollution problems and solutions; what is a LEED building?
(Includes Outdoor Activity - hike around Wekiva Island to identify human-made vs. natural and discuss ideas on being stewards to our environment.)
Classroom Workshop: (2 ½ hours) Florida birds! Learn about the birds of Florida and their habitats; Observing birds in their natural habitat.
(Includes Outdoor Activity - hike the Island and identify birds of the river.) Guest visit from Audubon Society
Classroom workshop: (3 hours) Discuss and learn about various weather patterns in different regions; learn weather terminology; Identify what affects our weather; How weather impacts our planet. Take turns being a meteorologist and giving a weather report on 'Wekiva Island TV' Guest visit from channel 9 weather meteorologist Tom Terry. 
(Includes Outdoor Activity - identify the weather conditions using weather terminology and do a weather experiment, create lightning, static electricity etc.).
Registering denotes your interest. A coordinator will reach out to confirm and process your fee. 
Questions? Contact Us at 386-717-1450