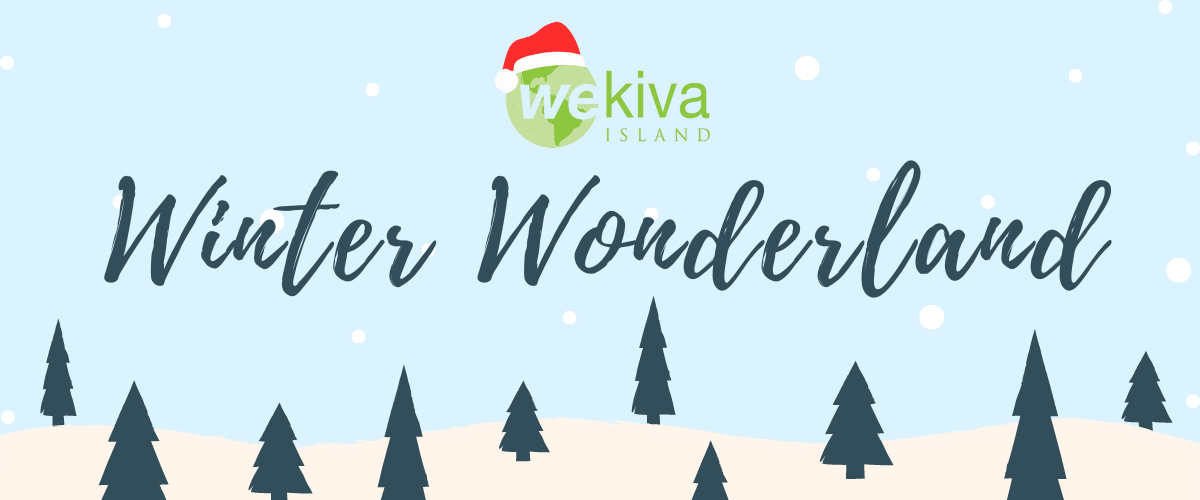 Days Hours Minutes Seconds
Winter Wonderland is back, and it's bigger than ever! We're supersizing our sparkling Christmas Tree Forest with a 20-foot Christmas tree! Plus, we have nightly "snow" flurries, sparkling holiday décor, visits from Santa and other holiday characters and special events for the whole family from December 3 through Christmas Day.
Throughout the month, the venue will be filling canoes with toys donated to Toys for Tots. Wekiva Island will also be offering specials and discounts at its General Store, in addition to free gift wrapping on ALL gifts brought to the Island—so guests can kick back with a beverage with Island elves do all the hard work.
Winter Wonderland is open to the public. There is a $2 admission fee, and select events require and additional ticket.
Snow FlurriesCelebrate the holiday season with snow flurries at Wekiva Island!Wekiva River Sleigh RidesEnjoy a scenic ride down the Wekiva River on Santa's sleigh!Santa & Mrs. Claus VisitsEnjoy a visit with Santa and Mrs. Claus!
The Grinch VisitsYour favorite holiday movie comes to life with a visit from The Grinch, Cindy Lou Who and elves of Whoville.
Previous
Next
Winter Wonderland Activity Schedule
Saturday, December 3rd
11AM-5PM: Wekiva River Sleigh Rides
1PM-8PM: Santa & Mrs. Claus Visit
2PM-4PM: Holiday Face Painters
7PM-11PM: Live Music with Scott Davidson
All Day: Snow Flurries & Christmas Tree Forest
Sunday, December 4th
11AM-5PM: Wekiva River Sleigh Rides
1PM-8PM: Santa & Mrs. Claus Visit
7PM: Outdoor Movie – The Polar Express
All Day: Snow Flurries & Christmas Tree Forest
Monday, December 5th
All Day: Snow Flurries & Christmas Tree Forest
Tuesday, December 6th
All Day: Snow Flurries & Christmas Tree Forest
Wednesday, December 7th
6PM-7PM: Stories with Mrs. Claus
6-8PM: Wine & Paint
Thursday, December 8th
All Day: Snow Flurries & Christmas Tree Forest
Friday, December 9th
7PM-9PM: Santa & Mrs. Claus Visit
7PM-11PM: Live Music with Sean Holcomb
All Day: Snow Flurries & Christmas Tree Forest
Saturday, December 10th
9AM-12PM: Breakfast with Santa
9AM-5PM: Wekiva River Sleigh Rides
10AM-12PM: Holiday Stilt Walkers
1PM-8PM: Santa & Mrs. Claus Visit
2PM-4PM: Holiday Face Painters
Sunday, December 11th
11AM-5PM: Wekiva River Sleigh Rides
1PM-6PM: Santa & Mrs. Claus Visit
2PM-5PM: Holiday Stilt Walkers
7PM: Outdoor Movie – A Christmas Carol
Monday, December 12th
7PM: Letters to Santa
All Day: Snow Flurries & Christmas Tree Forest
Tuesday, December 13th
All Day: Snow Flurries & Christmas Tree Forest
Wednesday, December 14th
All Day: Snow Flurries & Christmas Tree Forest
Thursday, December 15th
6PM-8PM: Dickens Carolers Quartet
4PM-6PM: Sierra Nevada Celebration Happy Hour
All Day: Snow Flurries & Christmas Tree Forest
Friday, December 16th
1PM-6PM: Santa & Mrs. Claus Visit
7PM-11PM: Live Music with Musical Charis
All Day: Snow Flurries & Christmas Tree Forest
Saturday, December 17th
*Wekiva Island closes at 5PM for VIP Party
11AM-5PM: Wekiva River Sleigh Rides
1PM-5PM: Santa & Mrs. Claus Visit
7PM-11PM: Winter Wonderland VIP Party
All Day: Snow Flurries & Christmas Tree Forest
Sunday, December 18th
11AM-5PM: Wekiva River Sleigh Rides
1PM-6PM: Santa & Mrs. Claus Visit
2PM-6PM: The Grinch, Cindi Lou Who & Whoville Elves Visit
7PM: Outdoor Movie – The Grinch
All Day: Snow Flurries & Christmas Tree Forest
Monday, December 19th
7PM: Letters to Santa
All Day: Snow Flurries & Christmas Tree Forest
Tuesday, December 20th
All Day: Snow Flurries & Christmas Tree Forest
Wednesday, December 21st
All Day: Snow Flurries & Christmas Tree Forest
Thursday, December 22nd
All Day: Snow Flurries & Christmas Tree Forest
Friday, December 23rd
7PM-9PM: Santa & Mrs. Claus Visit
7PM-11PM: Live Music with Matt Burke
All Day: Snow Flurries & Christmas Tree Forest
Saturday, December 24th
*Christmas Eve: Open from 8AM-5PM
All Day: Christmas Tree Forest

Sunday, December 25th
*Christmas Day: Open 10AM-4PM
All Day: Christmas Tree Forest

Monday, December 26th