Wekiva Island's Winter Wonderland
Celebrating all December long in Central Florida!
Christmas Tree Forest
Magical forest filled with beautifully decorated Christmas trees, including our 30-ft tall spectacular tree!
Snow Flurries
Celebrate the holiday season with snow flurries at Wekiva Island.
Santa's Workshop
For the first time ever, Santa is taking up shop at Wekiva Island and wants to invite you for a visit.
Santa & Mrs. Claus Visits
Enjoy a visit with Santa and Mrs. Claus.
The Grinch Visits
Your favorite holiday movie comes to life with a visit from The Grinch, Cindy Lou Who and elves of Whoville.
Wekiva Island's long-awaited Winter Wonderland is back again, and we're excited to celebrate the festive season all December long. In addition to our well-loved activities like daily "snow" flurries, the Christmas tree forest and our 30-ft tall tree, and visits from your favorite Christmas characters, Santa is inviting all the good boys and girls for the first time ever to his Workshop, right here at Wekiva Island!
In the spirit of giving back, we will be filling canoes with toys donated to Toys for Tots. Wekiva Island will also be offering specials and discounts at its General Store, in addition to free gift wrapping on ALL gifts brought to the Island—so guests can kick back with a beverage and allow our Island elves to do all the hard work.
Winter Wonderland is open to the public. There is a $5 admission fee, and select events require an additional ticket.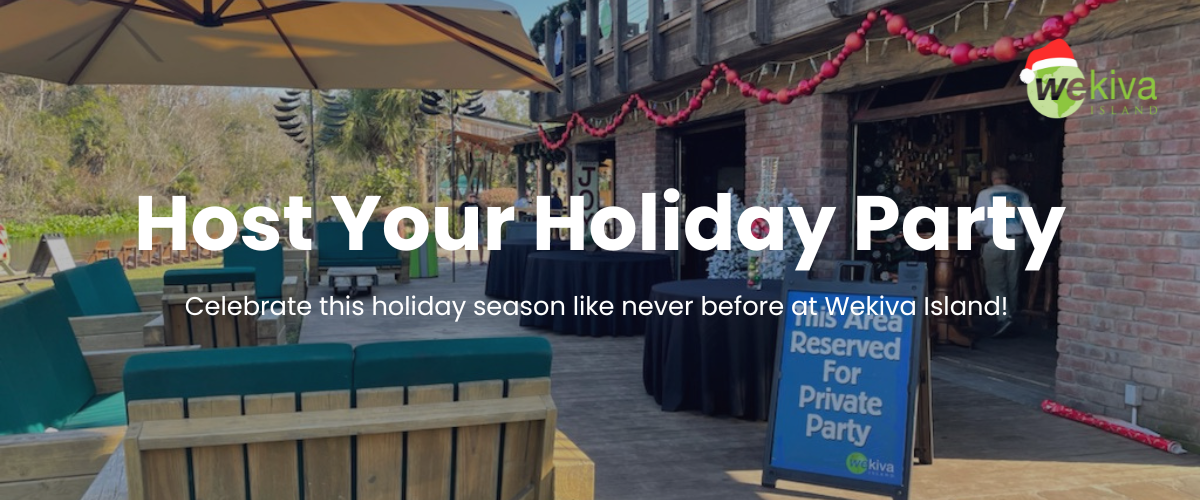 Winter Wonderland Event Schedule
Friday, December 1st
6PM-9PM: Lighted Holiday Stilt Walkers
7PM: Christmas Tree Lighting Ceremony
7PM-9PM: Santa & Mrs. Claus Visit
7:30PM-9PM: Santas Workshop Open
Saturday, December 2nd
1PM-7PM: Santas Workshop Open
1PM-8PM: Santa & Mrs. Claus Visit
2PM-6PM: Holiday Face Painters & Glitter Tattoo Artist
Sunday, December 3rd
1PM-4PM: Holiday Stilt Walker 
1PM-7PM: Santa & Mrs. Claus Visit
1PM-7PM: Santa's Workshop Open
2PM-6PM: Holiday Face Painters & Glitter Tattoo Artist
7PM-9PM: Outdoor Movie: The Polar Express
Monday, December 4th
Snow Flurries and Christmas Tree Forest
Tuesday, December 5th
Snow Flurries and Christmas Tree Forest
Wednesday, December 6th
6PM-7PM: Stories with Mrs. Claus
Thursday, December 7th
6PM-8PM: Charles Dickens Carolers
Friday, December 8th
6PM-9PM: Lighted Holiday Stiltwalkers
7PM-9PM: Santa's Workshop Open
7PM-9PM: Santa & Mrs. Claus Visit
Saturday, December 9th
1PM-8PM: Santa's Workshop Open
1PM-8PM: Santa & Mrs. Claus Visit
2PM-6PM: Holiday Face Painters & Glitter Tattoo Artist
Sunday, December 10th
9AM-11AM*: Breakfast With Santa 
*Santa's Workshop will be open for breakfast guests during this time
9AM-12PM: Holiday Stilt Walkers
1PM-7PM: Santa's Workshop Open
1PM-4PM: Rudolph, Hermey The Elf, Yukon Cornelius & The Misfit Toys Visit
1PM-7PM: Santa & Mrs. Claus Visit
7PM-9PM: Outdoor Movie: The Santa Clause 
Monday, December 11th
Snow Flurries and Christmas Tree Forest
Tuesday, December 12th
Snow Flurries and Christmas Tree Forest
Wednesday, December 13th
6PM: Stories With Mrs. Claus
Thursday, December 14th
Snow Flurries and Christmas Tree Forest
Friday, December 15th
7PM-9PM: Santa & Mrs. Claus Visit
7PM-9PM: Lighted Holiday Stilt Walkers
7PM-9PM: Santa's Workshop Open
Saturday, December 16th
*Wekiva Island closes at 5PM for VIP Party
12PM-5PM: Santa's Workshop Open
12PM-5PM: Santa & Mrs. Claus Visit
7PM-11PM: Winter Wonderland VIP Party
Friday, December 16th
7PM-9PM: Santa & Mrs. Claus Visit
7PM-9PM: Lighted Holiday Stilt Walkers
7PM-9PM: Santa's Workshop Open
Saturday, December 16th
*Wekiva Island closes at 5PM for VIP Party
12PM-5PM: Santa's Workshop Open
12PM-5PM: Santa & Mrs. Claus Visit
7PM-11PM: Winter Wonderland VIP Party
Sunday, December 17th
1PM-7PM: Santa's Workshop Open
1PM-7PM: Santa & Mrs. Claus Visit
2PM-6PM: The Grinch, Cindy Lou Who & Whoville Elves Visit
7PM-9PM: Outdoor Movie: Dr. Seuss' The Grinch
Monday, December 18th
Snow Flurries and Christmas Tree Forest
Tuesday, December 19th
Snow Flurries and Christmas Tree Forest
Wednesday, December 20th
6PM: Stories with Mrs. Claus 
Thursday, December 21st
Snow Flurries and Christmas Tree Forest
Friday, December 22nd
6PM-9PM: Lighted Holiday Stilt Walkers
7PM-9PM: Santa's Workshop Open
7PM-9PM: Santa & Mrs. Claus Visit
Saturday, December 23rd
1PM-8PM: Santa's Workshop Open
1PM-8PM: Santa & Mrs. Claus Visit
2PM-6PM: Holiday Face Painters & Glitter Tattoo Artist
Sunday, December 24th
*Christmas Eve: Island is open from 8AM-4PM
Monday, December 25th
*Christmas Day: Island is open from TBD